<![if !vml]>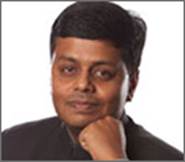 <![endif]> Aromar Revi is the Director of the Indian Institute for Human Settlements (IIHS) India's prospective Institution of Eminence and interdisciplinary national University focused on urbanisation. Over a dozen years, he has built IIHS into one of the world's leading education, research, training, advisory and implementation- support institution, focusing on the multi-dimensional challenges and opportunities of sustainable urbanisation.
He is an alumnus of IIT-Delhi and the Law and Management schools of the University of Delhi. He is a global practice and thought leader, and educator with over 35 years of interdisciplinary experience in sustainable development, public policy and governance, human settlements, global environmental and technological change.
Aromar is an international expert on Sustainable Development; Co-Chair of the UN Sustainable Development Solutions Network ( SDSN ), from where he helped lead a successful global campaign for an urban Sustainable Development Goal (SDG 11) as part of the UN's 2030 development agenda.
He is a member of the Ubuntu Advisory Board of the UCLG President. UCLG is the global voice of local and regional governments, representing 0.24 million towns, cities, metropolises and regions. He is a member of UN-Habitat' Stakeholder Advisory Group tasked with global stakeholder engagement (2019-21). Aromar is a former member of the Managing Board of Cities Alliance, the global partnership for sustainable cities and urban poverty reduction.
Aromar is Commissioner of the Lancet Pathfinders Commission that will identify and communicate global, regional and local pathways to a healthy, low carbon future. He is also a member of the Task Force on Global Health Diplomacy and Cooperation of Lancet COVID-19 Commission , that will make recommendations on strengthening global governance and multilateral cooperation to build back better, paying particular attention to global health governance and science diplomacy.
Aromar ' policy, practice and research work lie at the interface of sustainability science and climate science; and the emerging discipline of 'urban science' that he is helping define internationally. He was a member of the UCL- Nature Sustainability Expert Panel on science and the future of Cities that issued its 2018 report on the global state of the urban science-policy interface. He is Co-PI on two significant international urban research programmes that will help define the future of urban science (PEAK) and responses to urban inequality (KNOW) bringing together leading universities and researchers from four continents.
In 2016, UNSDSN and the SDG Academy launched the first 66-session global Massive Open Online Course (MOOC) on Sustainable Cities and SDG 11, curated by him, featuring 30 of the world's leading urbanists. Over 33,000 participants from 150 countries have registered for this. This was launched on EdX in January 2019.
Aromar has made significant contributions to human settlements development in India, for which he was elected an Ashoka Fellow in 1990. This includes a key role in designing India's national public housing programmes, that facilitate the building of over 2 million rural houses a year; infrastructure planning, upgrading and institutional reform in multiple million-plus cities. Aromar has served on high-level committees of the Government of India and was responsible for the development of housing and urban development plans for two-thirds of India's states in the 1990s.
Aromar is one of the world's leading experts on global environmental change, especially climate change. He is a Coordinating Lead Author (CLA) of the 2018 IPCC Special Report on Global Warming of 1.5 °C (SR15). He has worked extensively to bring the global urban and climate agendas together, including as a coordinating lead author of the SR1.5 Summary for Urban Policymakers, released at CoP24 in Poland in 2018 and the Summary for Financial Decisionmakers in 2020.
He is a CLA of the synthesis chapter on Climate Resilient Development Pathways of the IPCC Working Group Assessment Report 6 on Adaptation, to be released in 2021. He is also a member of the Core Writing Team (CWT) of AR6 Synthesis Report that will be released in 2022. He was earlier a CLA of the IPCC Assessment Report 5 chapter on Urban Areas, that established the role of cities and regions in addressing climate risks in 2014. He was a co-PI of a large five-year international Climate Adaptation research programme ( ASSAR ) that spanned India and eight countries in Africa, that explored mechanisms to take climate adaptation to scale in semi-arid regions.
He is one of South Asia's most experienced risk and disaster management professionals having led teams to plan & execute rehabilitation programmes for ten major earthquake, cyclone and flood events affecting over 5 million people and has been on the Advisory Board of UNDRR's Scientific & Technical Advisory Group (STAG) and its bi-annual Global Assessment of Risk, since 2008. Aromar has led the design for UNDRR of the Coalition for Disaster Resilient Infrastructure ( CDRI ) a global partnership to promote the resilience of infrastructure systems to climate and disaster risks that was launched at the Climate Action Summit 2019 in New York.
Aromar has led and managed multiple international and national multi-stakeholder political and development negotiations. In 2020 he led a special XV Finance Commission report on The Potential of Urbanisation to Accelerate Post-COVID Economic Recovery that defined a $300 billion package of strategic measures and priorities at national, state and regional levels to enable the process of urbanisation to accelerate post-COVID economic recovery, addressing 450 million people in about 8,000 urban areas over 2021-31. In 2014, he assisted the Govt. of India in the partition of the erstwhile state Andhra Pradesh, with a population of 85 million people. Aromar led a complex process of structuring a $ 75 billion investment plan for infrastructure and development across all districts and cities for the successor state of 50 million; helped identify options for a new state capital and conducted stakeholder negotiations and public consultations across the state.
Aromar is also an internationally cited scholar across multiple fields: urban (#6), climate adaptation (#5), infrastructure (#8), sustainable development (#25), and public policy (#58). He's the Editor of the interdisciplinary international journal Urbanisation (Sage) and on the editorial Boards of Nature Sustainable Earth (Springer), npj Urban Sustainability (Springer), the International Journal of Urban Sustainable Development (Taylor & Francis) and Urban Climate (Elsevier).
He is a member of the international advisory Board of the African Centre for Cities (ACC) at the University of Cape Town. He is also a member of the External Advisory Board of the India China Institute (ICI) at the New School University.
He has been a senior advisor to multiple ministries of the Government of India, since the late 1980s; and consulted with international development institutions, national and transnational firms on economic, environmental and social change at global, regional and urban scales. This includes UN, multilateral and bilateral agencies: UNDP, UNICEF, UNEP, UN Habitat, UNDRR, UNU; World Bank, ADB, DFID, CIDA, SIDA, SDC, NORAD, GiZ, IDRC and AusAID.
Over the last decade, Aromar has delivered over 275 keynote addresses, speeches, and seminars and made public, TV and radio appearances, across the world. He has addressed special sessions of the UN Open Working Group on the SDGs, the 71st UN General Assembly on the New Urban Agenda on Sustainable Cities, in 2014 and 2017. He has lectured and taught at over 95 (9 of the top-10) leading Universities, across all six continents.
Aromar has led 125 major practice, consulting and research assignments in India and internationally; has deep governance, institutional development, management and implementation experience, across public, private and academic institutions; has published over 115 peer reviewed publications and books; lectured and taught at over 90 of the world's leading Universities and think tanks across 6 continents; has travelled extensively to over 60 countries, including 19 of the G-20; helped structure, design & review development investments of over $ 8 billion; worked on 5 of the world's 10 largest cities; across urban and rural areas in all of India's 29 states and on multiple international projects across over a dozen countries.

Honorable Chief Guest, Distinguished Members of the Board of Governors and Senate, Dear Faculty and Staff members of School of Planning and Architecture Bhopal, Invitees, Dear Graduands, Students, Ladies and Gentlemen; It is indeed our great pleasure and honour to welcome you to the 8th Convocation of School of Planning and Architecture Bhopal. We express our utmost gratitude to you all for being a part of this Convocation Ceremony. I consider it to be my great privilege to present the progress of SPA Bhopal since the last Convocation held on 5th December 2020.

SPA Bhopal has always been constantly endeavouring to contribute its share in addressing the challenges related to the built environment through sustainable planning, innovative design and technological solutions. We are proud to place on record that in the last one year, the institute has made excellent progress despite the covid pandemic situation.

We are delighted to inform that in this Convocation, a total of 213 graduands (89 under graduands, 122 post graduands, and 2 PhD) will be awarded degrees. Besides, two medals of overall excellence, nine proficiency gold medals, and best thesis awards will be given away.

It is our utmost pleasure to inform that during the past one year, we have increased the faculty strength with highly qualified young and energetic faculty members to cater to our academic needs. All our faculty members have been actively contributing to academics and research through publications in the peer reviewed journals and participation in various national and international conferences. In addition to this, many of our faculty members are also contributing to several ongoing prestigious research and consultancy projects. We have recently applied for patents under our Design Innovation Center (DIC), an initiative of the Government of India.

Despite the pandemic situation, though our near and dear ones we lost, our faculty members and students bravely went through this period and came out successfully. Very soon, we would be re-opening the institute in a phase-wise manner, for offline classes following the covid standard operating protocols.

We are proud to place on record that we presently have much joint collaboration with several national and international institutes of high repute like UN-Habitat, GIZ (Germany), NITTR Bhopal, NID Bhopal, IISER Bhopal, The Madhya Pradesh State Bamboo Mission and many more. We are happy to inform that the Ministry of Panchayati Raj has identified SPA Bhopal as a National Centre for setting up Spatial Planning in Rural Areas at the Gram Panchayat level. SPA Bhopal prepared the Revision of Rural Area Development Plan Formulation and Implementation (RADPFI) guidelines, which is at national level prestigious work.

Given our expertise, experience and our participation in various committees of the NITI Aayog relating to urban planning education and hill area planning, Ministry of Housing and Urban Affairs, and Ministry of Panchayati Raj. SPA Bhopal got an opportunity to contribute to the project first of its kind at national level for 'Agri-produce logistics optimization in Indore-Dewas region'.

We take great pride in informing that we have been actively contributing to several projects in the state of Madhya Pradesh. The Ministry of Housing and Urban Affairs, Government of India has invited SPA Bhopal for reviewing the Smart City programmes across various cities of Madhya Pradesh. SPA Bhopal was also associated with the two flagship Metros (Bhopal and Indore) of Madhya Pradesh, for landuse planning in various identified zones. SPA Bhopal is now taking a lead role in setting up the Bio-Diversity Park in Bhopal (first of its kind in the state of Madhya Pradesh), with the collaboration of the Madhya Pradesh State Bio-Diversity Board. We are training the students in their career counseling across the Madhya Pradesh.

It is heartening to note that we could successfully conduct a number of academic activities with the help and collaboration of various external experts and organizations in the past one year. We have organized many special lectures, workshops, webinars, and training programmes for students, professionals, and officials. We have also conducted various programmes on urban resilience in collaboration with NIDM, NIUA 'Awas par Sanvad', professional development programme for the officials of Town and Country Planning Organisation, Madhya Pradesh, and Principals of the Schools across MP for career counseling in the field of architecture and planning. In all these we had experts from UN Organisations, National Organisations and Universities across the world.

We are glad to inform that recently we have celebrated 'Hindi Pakwada' to promote the knowledge, publicity and use of Rajbhasha in official work. SPA Bhopal publish SPANDAN a Hindi language journal.

Our students have made us immensely proud by their participation and achievements in various national and international competitions. Through our Training and Placement Cell, even after the effect of COVID we have provided an opportunity to our students to undergo internship in various institutions of high reputation. We are delighted to inform that many of our alumni have been placed and some became entrepreneurs, and are now successfully contributing to various organizations in India and abroad.

It gives us great pleasure to inform that in the last one year, we could successfully augment our institute infrastructure. For the first time, we interfaced between Brown, Green and Blue in our campus. Brown – the construction of the long pending Academic Block was initiated and the progress is now in full swing. Green and Blue - developed during pandemic with wide plantation activity and deepening of lakes. Besides, we have also started with a number of green initiatives in our campus through water harvesting, solar energy integration, electric bicycle usage, etc. As a social responsibility, SPA Bhopal opened up our hostels for the Covid Warriors till 2020.

In the past one year, we have made many efforts to make structural academic changes in line with the National Education Policy 2020. We have carefully planned for our future and are planning to come up many new academic degree programmes that are sustainable in the allied disciplines of planning, architecture, emerging technologies and systems into our curriculum.

We look forward to successfully contribute by shaping the future leaders in the fields of planning, architecture and design. We once again congratulate all our graduands and proud parents who trusted SPA Bhopal for this journey, on this wonderful occasion of 8th Convocation of SPA Bhopal. We wish you a very bright future ahead. Stay healthy, Stay safe.
--Jai Hind--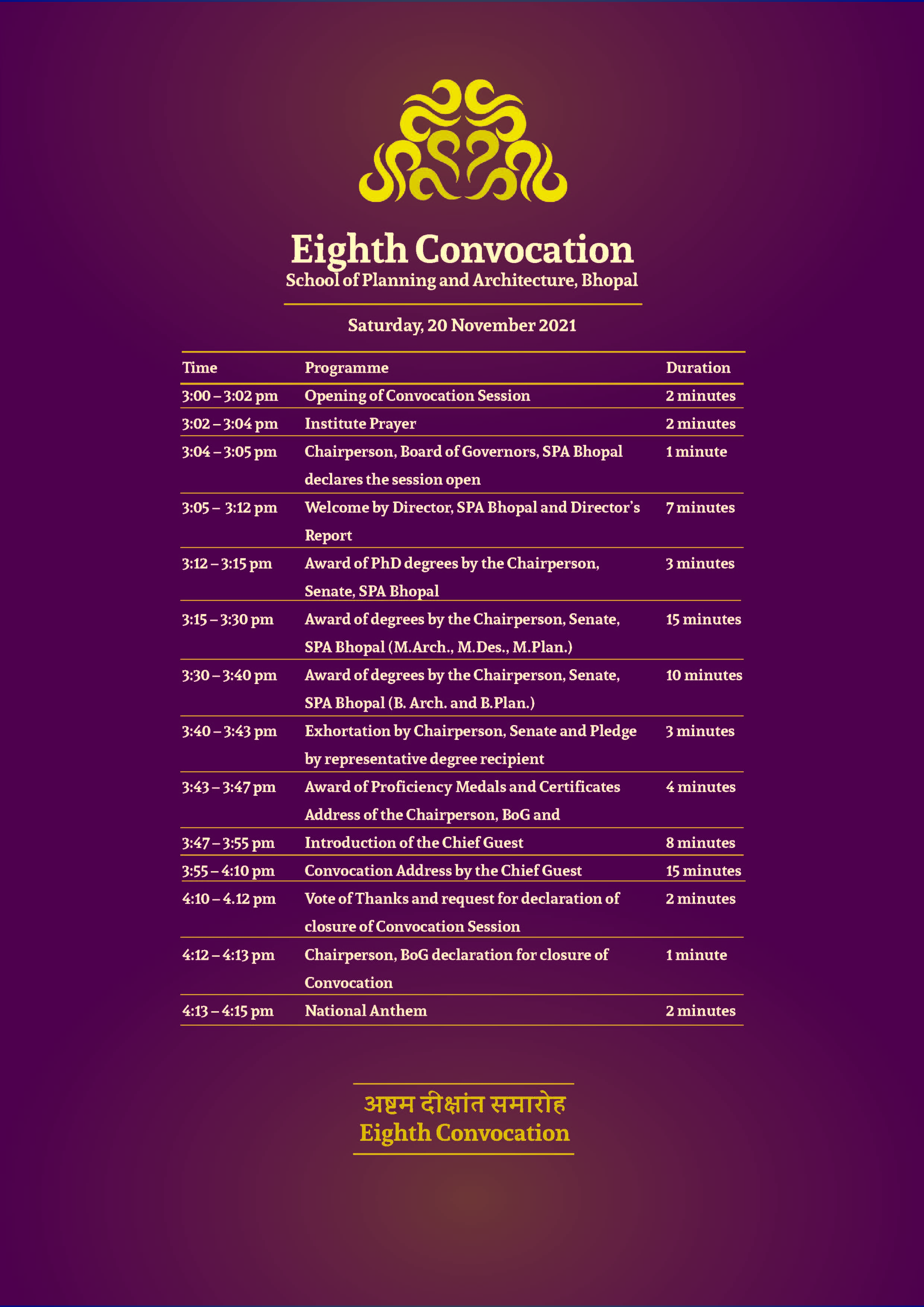 Bachelor of Architecture
| Sl. No. | Scholar no. | Name |
| --- | --- | --- |
| 1 | 2016BARC001 | SAMRAGI BISTA |
| 2 | 2016BARC002 | Pretha Mani |
| 3 | 2016BARC003 | ANANDITA GUPTA |
| 4 | 2016BARC004 | Safiya Raheman |
| 5 | 2016BARC005 | BINAY KUMAR GUPTA |
| 6 | 2016BARC006 | MELANIE MARY MARSHAL |
| 7 | 2016BARC007 | MEGHNA |
| 8 | 2016BARC009 | PARUL GUPTA |
| 9 | 2016BARC010 | Sanvi Bhutani |
| 10 | 2016BARC011 | UMANG JAIN |
| 11 | 2016BARC012 | ISHAN PANWAR |
| 12 | 2016BARC013 | SHWETA DESHMUKH |
| 13 | 2016BARC014 | SONULE HARSHAL RAJKUMAR |
| 14 | 2016BARC015 | VAISHALI SAHU |
| 15 | 2016BARC016 | Purnima |
| 16 | 2016BARC018 | GAURAV PATEL |
| 17 | 2016BARC020 | GUNRAAGH SINGH TALWAR |
| 18 | 2016BARC022 | LAKSHAY JASORIA |
| 19 | 2016BARC023 | AASTHA PAREEK |
| 20 | 2016BARC024 | VIJAYA SINGH |
| 21 | 2016BARC025 | MEDHA VERMA |
| 22 | 2016BARC028 | SAGARIKA SENGUPTA |
| 23 | 2016BARC029 | Anisha Suri |
| 24 | 2016BARC031 | ANANYA VACHHER |
| 25 | 2016BARC034 | SANCHI JAIN |
| 26 | 2016BARC035 | PANISTHI JINDAL |
| 27 | 2016BARC036 | SANYOGITA RANA |
| 28 | 2016BARC038 | MANSI GARG |
| 29 | 2016BARC039 | ADITYA NARAYAN |
| 30 | 2016BARC040 | SARTHAK AHUJA |
| 31 | 2016BARC043 | NINGTHOUJAM KINGSON SINGH |
| 32 | 2016BARC044 | SHINU TAYAL |
| 33 | 2016BARC046 | DHEERAJ UMAKANT MALEKAR |
| 34 | 2016BARC047 | Yasho Aditya |
| 35 | 2016BARC049 | SRIKURMAM NITISHA SAI KIRAN |
| 36 | 2016BARC050 | E LINA LIZA |
| 37 | 2016BARC052 | ALEMCHILA TZUDIR |
| 38 | 2016BARC054 | ASHI SHARMA |
| 39 | 2016BARC056 | Prerna K Sangma |
| 40 | 2016BARC057 | ANCHIT AGARWAL |
| 41 | 2016BARC058 | VAIBHAV AGARWAL |
| 42 | 2016BARC059 | ALOK SHAKYA |
| 43 | 2016BARC061 | SAUMYA GUPTA |
| 44 | 2016BARC062 | PRATYAKSHA MISHRA |
| 45 | 2016BARC063 | MUHAMMED K ABDULLA |
| 46 | 2016BARC064 | SALIL SUBAIR |
| 47 | 2016BARC065 | SANIYA MALHOTRA |
| 48 | 2016BARC066 | WASIM KHAN |
| 49 | 2016BARC067 | Ayush Arya |
| 50 | 2016BARC068 | RISHABH KALRA |
| 51 | 2016BARC069 | Gugloth Shravani |
| 52 | 2016BARC071 | MRIDULA KHER |
| 53 | 2016BARC073 | JAYATI DUDANI |
| 54 | 2016BARC074 | DEEKSHAA NIM |
| 55 | 2016BARC075 | Mani Makhija |
| 56 | 2016BARC077 | BIDYUTPOL GOGOI |
| 57 | 2016BARC078 | KASTURI MANDAL |
| 58 | 2016BARC079 | Garima Agrawal |
| 59 | 2016BARC081 | AMLAN JYOTI SAIKIA |
| 60 | 2016BARC082 | AMUDAN. V |
| 61 | 2016BARC084 | Kashish Kochhar |
| 62 | 2016BARC085 | VIDUSHI GUPTA |
| 63 | 2016BARC086 | SHIVANGI TOMAR |
| 64 | 2016BARC087 | SIMRAN CHAKARVARTY |
| 65 | 2016BARC088 | ANANYA SHARMA |
| 66 | 2016BARC089 | DIKSHA |
| 67 | 2014BARC070 | LUNI MADHAV DOLEY |
| 68 | 2014BARC074 | ADITYA VIKRAM |
| 69 | 2015BARC025 | KSHETRIMAYUM PURNATARA SINGH |
| 70 | 2015BARC028 | PRATEEK VERMA |
| 71 | 2015BARC068 | D PAVAN KRISHNA |
Bachelor of Planning
| Sl. No. | Scholar no. | Name |
| --- | --- | --- |
| 1 | 2017BPLN003 | SUMIT SANGAM |
| 2 | 2017BPLN008 | SAYEED ANWAR |
| 3 | 2017BPLN009 | MUDDASANI VENKATESH |
| 4 | 2017BPLN012 | OCEANIKA BHATT |
| 5 | 2017BPLN014 | SRUTHIKA ANNA JOHN |
| 6 | 2017BPLN015 | KELAM SARATH CHANDRIKA |
| 7 | 2017BPLN016 | AKHILESH SINGH |
| 8 | 2017BPLN017 | SOUMITA MANDAL |
| 9 | 2017BPLN018 | Sayani Mandal |
| 10 | 2017BPLN020 | MUSKAN |
| 11 | 2017BPLN021 | ISHITA SINGH |
| 12 | 2017BPLN023 | VIBHU SINGH |
| 13 | 2017BPLN025 | SHREEYALI AGARWAL |
| 14 | 2017BPLN026 | PEDDI SANDEEP |
| 15 | 2017BPLN027 | MD MUSLIM ANSARI |
| 16 | 2017BPLN028 | MD FAIZAN DANISH |
| 17 | 2017BPLN029 | SWETA SOREN |
| 18 | 2017BPLN030 | MANNAM HANEESH |
MASTER OF ARCHITECTRE (CONSERVATION)
| Sl. No. | Scholar no. | Name |
| --- | --- | --- |
| 1 | 2019MCO001 | SHARVARI SHARADCHANDRA KULKARNI |
| 2 | 2019MCO002 | SUSHREE SWAGATIKA KHATUA |
| 3 | 2019MCO003 | VISHNU K SURESH |
| 4 | 2019MCO004 | MAHIMA KHANDELWAL |
| 5 | 2019MCO005 | RENUKA PARADKAR |
| 6 | 2019MCO006 | HIMALI RANJAN HARDAS |
| 7 | 2019MCO007 | GAYATHRI G |
| 8 | 2019MCO008 | RUCHI PANDEY |
| 9 | 2019MCO010 | BHOYAR VASUNDHARA PRAMOD |
| 10 | 2019MCO012 | AMAN SHARMA |
| 11 | 2019MCO013 | ATHIRA TP |
| 12 | 2019MCO014 | K.B MAMTHA |
MASTER OF ARCHITECTRE (LANDSCAPE)
| Sl. No. | Scholar no. | Name |
| --- | --- | --- |
| 1 | 2019MLA001 | SNEHAL RAMTEKE |
| 2 | 2019MLA002 | ISHA JAIN |
| 3 | 2019MLA003 | TRISHLA GUPTA |
| 4 | 2019MLA004 | E.Gunananthini |
| 5 | 2019MLA005 | Atreyee Ghosh Chowdhury |
| 6 | 2019MLA006 | ZOYA MATIN |
| 7 | 2019MLA007 | AJIT KUMBHAR |
| 8 | 2019MLA008 | SINDHU CH |
| 9 | 2019MLA009 | PRIYANKA AGARWAL |
| 10 | 2019MLA010 | STUTI ARORA |
| 11 | 2019MLA011 | ASHA RAJAN |
| 12 | 2019MLA013 | PRIYANKA GUPTA |
| 13 | 2019MLA014 | OCEANDEEP KAUR |
| 14 | 2019MLA015 | GARGEE |
| 15 | 2019MLA016 | AKSHAYA S |
MASTER OF ARCHITECTRE (URBAN DESIGN)
| Sl. No. | Scholar no. | Name |
| --- | --- | --- |
| 1 | 2019MUD001 | PRALEEN PRIYAKUMAR |
| 2 | 2019MUD002 | VARUN KATHURIA |
| 3 | 2019MUD004 | PARIDHI RATHORE |
| 4 | 2019MUD005 | RAVI. PRUDHVI NAGA SAI KUMAR |
| 5 | 2019MUD006 | CHALLA MOUNICA |
| 6 | 2019MUD007 | PAVAN KUMAR DONTHAMSETTY |
| 7 | 2019MUD008 | ADITI SAINI |
| 8 | 2019MUD009 | CHARLIE GUPTA |
| 9 | 2019MUD010 | ASHISH KUMAR |
| 10 | 2019MUD011 | RIDHU DHAN GAHALOT |
| 11 | 2019MUD013 | ASHWINI RAJIV DESAI |
| 12 | 2019MUD014 | ARUNIMA |
| 13 | 2019MUD015 | SHRADDHA SHARMA |
| 14 | 2019MUD016 | PRAGYA SHARAN HOTWANI |
| 15 | 2019MUD017 | ASHWATH G |
| 16 | 2019MUD018 | LAVTI PARTH RAMESH |
| 17 | 2019MUD019 | PIUS SAURABH |
MASTER OF PLANNING (ENVIRONMENTAL PLANNING)
| Sl. No. | Scholar no. | Name |
| --- | --- | --- |
| 1 | 2019MEP001 | MAYANK SINGH |
| 2 | 2019MEP002 | SEFALI SENAPATI |
| 3 | 2019MEP003 | MONIKA UMRE |
| 4 | 2019MEP004 | SUPRITI DAS |
| 5 | 2019MEP005 | SHREEYA DEOSANT |
| 6 | 2019MEP006 | SOUMYA SHREE SAHOO |
| 7 | 2019MEP007 | SAYALI DEOSANT |
| 8 | 2019MEP008 | NITIN KUMAR SHRIVASTAVA |
| 9 | 2019MEP009 | AMIKSHA JAIN |
| 10 | 2019MEP010 | POORVA SINGH |
| 11 | 2019MEP011 | ISHANI GARG |
| 12 | 2019MEP012 | HRISHIKESH BALASAHEB SATPUTE |
| 13 | 2019MEP014 | DEEPAK SINGH |
| 14 | 2019MEP015 | AKRUTI BHAGWAT MURHEKAR |
| 15 | 2019MEP017 | SAJIDA SHAHNUM |
| 16 | 2019MEP018 | MOSBY SAYLI SIDDHARTHA |
| 17 | 2019MEP019 | APARNA.M.R |
MASTER OF PLANNING (TRANSPORT PLANNING)
| Sl. No. | Scholar no. | Name |
| --- | --- | --- |
| 1 | 2019MTPLM001 | MEHA NAIR |
| 2 | 2019MTPLM002 | SNEHA |
| 3 | 2019MTPLM003 | Akshay |
| 4 | 2019MTPLM004 | KAILA NAGA VENKATA TEJASWINI |
| 5 | 2019MTPLM005 | PRABHUDUTTA DASH |
| 6 | 2019MTPLM006 | RAMYA RELANGI |
| 7 | 2019MTPLM007 | A.VIJAYA LAKSHMI |
| 8 | 2019MTPLM008 | ABHIRUP MOHANTY |
| 9 | 2019MTPLM009 | ABHISEK BARIK |
| 10 | 2019MTPLM010 | ABHISHEK NAIK |
| 11 | 2019MTPLM011 | ZEESHAN AHMAD |
| 12 | 2019MTPLM012 | SHRUTI DUBEY |
| 13 | 2019MTPLM013 | MONIKA |
| 14 | 2019MTPLM014 | PRASHANT BAHUGUNA |
| 15 | 2019MTPLM015 | HARSHITA SHARMA |
| 16 | 2019MTPLM016 | ISH KUMAR |
| 17 | 2019MTPLM017 | ALKA KUMARI |
| 18 | 2019MTPLM018 | M. AKHIL |
MASTER OF PLANNING (URBAN & REGIONAL PLANNING)
| Sl. No. | Scholar no. | Name |
| --- | --- | --- |
| 1 | 2019MURP001 | APOORV AGRAWAL |
| 2 | 2019MURP002 | SAMRAGEE PAUL |
| 3 | 2019MURP003 | SHIB SANKAR BAGDI |
| 4 | 2019MURP004 | ADITYA EKNATH GUJARKAR |
| 5 | 2019MURP005 | SHREYA JAISWAL |
| 6 | 2019MURP006 | NIDHI AGGARWAL |
| 7 | 2019MURP007 | BHUMI SWETA SAHU |
| 8 | 2019MURP008 | ROHAN DHAL |
| 9 | 2019MURP009 | PRIYANKA PANDA |
| 10 | 2019MURP011 | PALLAVI SINGH |
| 11 | 2019MURP012 | KHUSHBOO RANI |
| 12 | 2019MURP013 | SARASWAT SEKHAR SARANGI |
| 13 | 2019MURP014 | HAREESH GONDELA |
| 14 | 2019MURP015 | SALKA KHAN |
| 15 | 2019MURP016 | ABHAY BISWAS |
| 16 | 2019MURP017 | ISHITA PRAGYA |
| 17 | 2019MURP019 | DEEPAK RANA |
| 18 | 2019MURP020 | RADHIKA SARDA |
| 19 | 2019MURP021 | GARIMA TAMRAKAR |
| 20 | 2019MURP022 | SAKSHI KHARE |
| 21 | 2019MURP023 | MOHAMMAD LARAIB AHMAD |
| 22 | 2019MURP024 | SHAILJA SINGLA |
| 23 | 2019MURP025 | VED PRAKASH NAYAK |
| 24 | 2019MURP026 | NEETU GODE |
| 25 | 2019MURP027 | MONICA A |
| 26 | 2019MURP028 | SHREEPARNA SAHOO |
| Sl. No. | Scholar no. | Name |
| --- | --- | --- |
| 1 | 2019MDES001 | GADDAMWAR SAISREE |
| 2 | 2019MDES002 | RASHI KATARIA |
| 3 | 2019MDES003 | SOMYA BANCHHORE |
| 4 | 2019MDES004 | MS. SHRUNKHALA THAKARE |
| 5 | 2019MDES005 | MANEESHA WARKADE |
| 6 | 2019MDES006 | RAJAT KUMAR |
| 7 | 2019MDES007 | AAGAMAN BHARADWAJ |
| 8 | 2019MDES008 | RACHANA VELUGOTI |
| 9 | 2019MDES009 | OYNDRILA SEN |
| 10 | 2019MDES011 | Karthikeyan v |
| 11 | 2019MDES012 | SUSHRUT JANGID |
| 12 | 2019MDES013 | TANYA AGRAWAL |
| 13 | 2019MDES014 | ROHIT SUREKH |
| 14 | 2019MDES015 | Shrinivas Vasantrao Shinde |
| 15 | 2019MDES016 | BHAVSAR KALPESH ANIL |
| 16 | 2019MDES017 | HARSH SUHANE |
| 17 | 2019MDES018 | DHAKTODE SAINATH GANGADHAR |
| Sl. No. | Scholar no. | Name |
| --- | --- | --- |
| 1 | 2012DR007 | Shweta Saxena |
| 2 | 2015DR005 | Balaji V |